Buying Guide
Buying Guide
Thickness
Leather Hide Parts
Hardware Measuring
Terminology
+
Buying Guide
When buying leather, tools and supplies there is an industry vocabulary that is important to know. This will help ensure you purchase the correct materials for your needs. We do our best to make that clear here. If you have any questions or are unsure on any topic please don't hesitate to get in touch. You can email info@lonsdaleleather.com or call us at 604-873-6556.
---
Step 1
SELECT COLOUR
---
Step 2
SELECT SIZE
---
Some leathers we are able to cut to better suit your needs. The smallest size we can cut will be displayed as well as the largest that the specific hide is available in.
We do not cut any smaller
If you require larger sizes simply adjust the quantity to best suit your needs.
---
Step 3
SELECT QUANTITY
---
Thickness
On our site you will find all leathers measured in Ounces. This chart can easily help translate to another form of measurement.
To make leather a uniform thickness, hides are processed and run through a splitting machine. Each animal is different and most leathers often have slight thickness variance throughout the hide. In this case they will be given a range such as 5 – 5.5 OZ.
LEATHER THICKNESS CONVERSION CHART
| Ounce | MM | Iron | % Inch | Inch |
| --- | --- | --- | --- | --- |
| 1 | 0.4 | 0.75 | 1/64 | 0.016 |
| 2 | 0.8 | 1.50 | 1/32 | 0.031 |
| 3 | 1.2 | 2.25 | 3/64 | 0.047 |
| 4 | 1.6 | 3.00 | 1/16 | 0.063 |
| 5 | 2.0 | 3.75 | 5/64 | 0.078 |
| 6 | 2.4 | 4.50 | 3/32 | 0.094 |
| 7 | 2.8 | 5.25 | 7/64 | 0.109 |
| 8 | 3.2 | 6.00 | 1/8 | 0.125 |
| 9 | 3.6 | 6.75 | 9/64 | 0.141 |
| 10 | 4.0 | 7.50 | 5/32 | 0.156 |
| 11 | 4.4 | 8.25 | 11/64 | 0.172 |
| 12 | 4.8 | 9.00 | 3/16 | 0.188 |
Leather Hide Parts
Before the hides are tanned they are sub-divided into different cuts. Each cut has different uses, qualities and characteristics.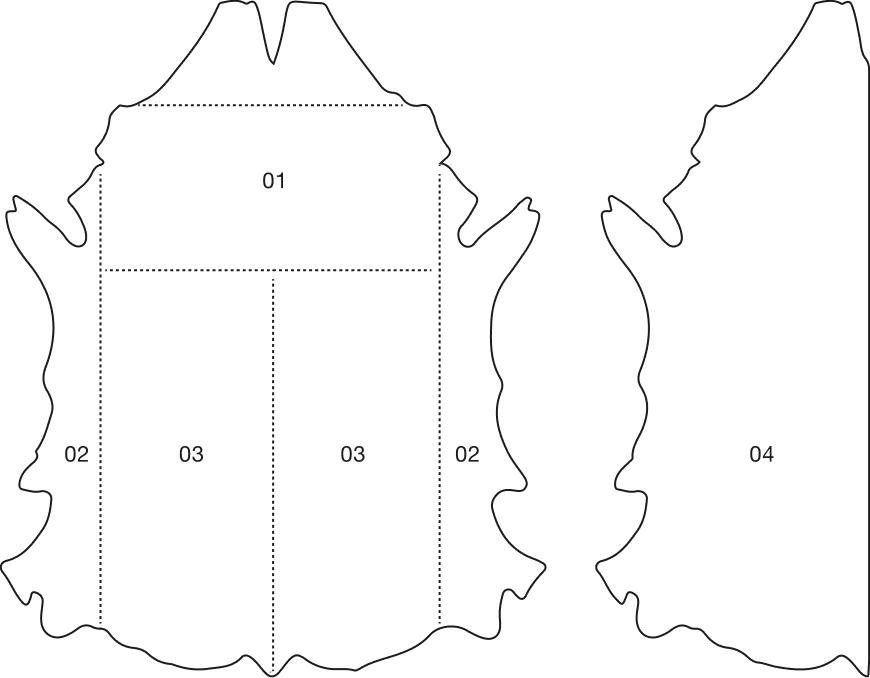 01 SHOULDER
Usually used for belts and straps
02 BELLY
Elongated and narrow, bellies are typically less consistent then the rest of the hide. They can be used for the production of belts, sandals, wallets and other accessories.
03 BEND
Can be either a single bend (one half) or a double bend (both sides) Usually used for belts, footwear + accessories. 04 SIDE Includes the belly, bend, shoulder and neck. Usually used for belts, footwear, garments and accessories.
WHOLE HIDE
Largest size available, whole hides are intended for garments, furniture, car seats and general upholstery. The size of the specific cut will vary depending on the age and breed of the animal.
Hardware Measuring
We measure our buckles at the inside width where the strap attaches the buckle or clasp.
To choose the right size buckle first decide how wide you want the strap, then choose the buckle accordingly. For example if you want a 1" wide strap we recommend a 1" buckle.

Terminology
Aniline Dyed
Leather that is dyed all the way through with a transparent dye. Because the finish is transparent and shows the natural markings of the leather, only the best quality hides can be used.
Bark Tanned
Also known as vegetable tanned. Leather tanned by the tannins extracted from the bark of trees.
Chrome Free
Also known as Aldehydetanned leather, this is the leather that most tanners refer to as wet-white leather due to its pale cream or white color. Used in infant's shoes and automobiles.
Chrome Tanned
This process uses soluble chromium salts, primarily chromium sulfate, to tan leather. Most commonly used for garments, footwear and upholstery.
Crust
Leather that has been tanned, dyed and dried, but not finished.
Distressed
Leather that is aniline dyed with one colour over another (usually darker over lighter) so as to create rich highlights and an artificial aged appearance. This finishing process is intended to emphasize the characteristics of the hide such as scars, scratches and wrinkles.
Drum Dyed
The process of coloring leather by tumbling it in a rotating drum immersed in dye to allow maximum dye penetration.
Embossed Leather
Leather that has been "stamped" with a design or artificial texture under very high pressure. Our embossed leathers have textures of ostrich and gator.
Flesh Side
The underside of the animal's hide. When looking at a piece of veg-tanned tooling leather, this will be the rough side.
Full Grain
Leather which has not been altered beyond hair removal. It is the most genuine of leathers, retaining all of the hide's original texture and markings. The hide's best, strongest and most durable layer.
Grain Side
This is the hide's surface that had the hair of the animal.
Hair Cell Grain
Noticeable appearance of where the hair pores were on the leather.
Kidskin
Soft leather made from the skin of a young goat.
Latigo
Cowhide leather tanned for outdoor use. Utilized for cinches, ties, and other saddlery work and for army accoutrements.
Milled
During the tanning process, the leather is tumbled in a large drum shaped container to make it softer.
Nubuck
Leather buffed on the grain side to give a velvety surface.
Oil Tanned
Leather that is tanned using oils to create a very soft, pliable finish.
Patina
The aura or luster that develops in leather as it ages with use.
Pebble Grain
A cosmetic character resembling small pebbles on the leather's top side.
Printed Leather
Leather that has been "stamped" with a design or artificial texture under very high pressure.
Pull-Up Finish
Describes the behavior of leather that has been treated with oils, waxes and dyes in such a way that when pulled or stretched, the finish becomes lighter in the those areas. Considered a mark of high quality.
Rawhide
Hides that have only been dehaired and cured but not tanned.
Semi-Aniline
Aniline leather that has a matching pigment layer added to even out the colour and add protection.
Shearling
A sheepskin or lambskin that has gone through a limited shearing process to obtain a uniform depth of the wool fibers. They can be tanned with either a veg-tan method, normally used for saddles and outdoor gear, or with a chrome method, normally used for garments.
Side
Leather tanned from one half, or "side" of a full hide.
Skirting
Sides from cattle that are left in their heaviest form for use with saddle making and re-enactment armor.
Splits
Leather made from the lower (inner or flesh side) layers of a hide that have been split away from the upper, or grain layers. Split leather is not as durable as full grain leather and is normally used as suede.
Suede
Leather that has been buffed and brushed for a more attractive surface.
Temper
A characteristic of leathers defined by pliability/softness.
Top Grain
Usually refers to a process of sanding away the natural grain from a leather's top surface. Imitation grain gets stamped into the leather for a more uniform look.
Veg-Tanned
A method of hide tanning which utilizes materials from organic materials such as bark instead of the traditional chemicals. This is the method utilized when tanning tooling leathers.
Waxy Hand
An upholstery or handbag leather that has a waxy feel and look to it.
Weight
A term which describes the thickness of leather in ounces. One ounce equals 1/64th (0.4 mm) of an inch in thickness. See the chart above.